San Vicente de la Barquera
Cantabria
Spain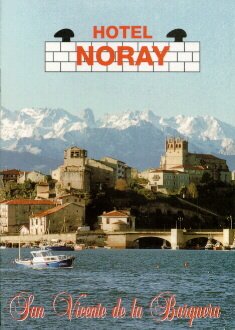 Hotel in San Vicente de la Barquera, one of the most beautiful villages of Spain.

CAFETERIA,Wi-Fi, PARKING AND GARAGE

18 DOUBLE ROOMS and 2 SUITES
ALL WITH BATH, TELEPHONE, COLOUR TELEVISION, SATELLITE CHANNEL
CHANNEL, MUSIC, AND CENTRAL HEATING.
---
Quad Routes
Here for more information.
Good views and close to the harbour.
LIVING ROOM AND MAIN ENTRANCE
---
SANTANDER AIRPORT TRANSFER SERVICE
ROUTES FROM SAN VICENTE DE LA BARQUERA
TOURIST INFORMATION ABOUT SAN VICENTE
DE LA BARQUERA

---
VISIT PICOS DE EUROPA AND SLEEP NEAR THE SEA.
The peaceful Hotel Noray provides an ideal base for exploring what is known as Green Spain – an area famed for its verdant countryside, unspoilt coastline and impressive mountains. Located in the tranquil area of San Vicente de la Barquera, the hotel terrace offers fantastic views over the town's harbour and the bay. The local region of Cantabria contains sights such as the world-famous caves of Altamira, known for some of the earliest paintings made by mankind. Near the sea, the hotel is also a short distance from the mountains of the Picos de Europa. In the evenings, keep in touch with your family and friends by making use of the hotel's Wi-Fi connection.
SAN VICENTE DE LA BARQUERA GUIDE
---
Address: Calle Rio Saja nº3
39540 San Vicente de la Barquera
Cantabria
Spain

Tfno. 00 34 942 71 21 41
Fax: 00 34 942 71 24 32

IF YOU WANT TO ASK SOMETHING OR MAKE A BOOKING E-MAIL TO:
Designed by: cesarf@ceoecant.es